Natural decorative cork bark wall tiles and panels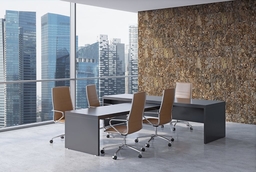 Originality and uniqueness from cork oak at your fingertips!
Looking for an original finish for the bedroom or living room? Thinking about a new and ecological interior design for your restaurant or office? Or maybe you just need a spectacularly natural and beautiful lining for the terrarium? The decorative cork bark is the answer to all of the above, and more.

New line of Virgin decorative cork wall tiles is the answer to fashion and trend for pursuing the most natural, ecological, and environmentally friendly and, at the same time, unusual finishing materials. Natural and solid cork panels from raw cork oak are an original, designer and 100% natural and ecological product. Untainted, solid cork tree bark has been glued on a flat panel of agglomerated cork.

As all cork wall panels, apart from their decorative advantages, they also enhance the acoustics and thermal insulation of the room, which drastically increases the comfort level. Virgin decorative cork bark is in 610x915mm format, is 25mm tick and weights 4 kgs. It is a perfect and original home, restaurant, shop or office interior decor, as well as a decoration for terrariums and aquariums.

Bored by the omnipresent ceramics, classical wood or cold glass? Choose a timeless material that will take everyone's breath away. Every decorative cork oak wall covering is 100% unique, designed and created by nature. Cork sheets will transform the interiors and make them more refined, so that you can impress your friends and family with your taste.

Decorative cork tree wall panels are an extremely practical solution, if apart from an unconventional wall decor you are looking for a way to sound-proof and warm-up the interior. Cork wall sheets will be a perfect solution for any interiors more prone to noise and stains, such as rooms, lobbys and corridors.

Cork bark is a perfect terrarium and aquarium decor. It provides a great hiding spot for its small inhabitants, such as reptiles, amphibiae or fish and it will make them feel at home. It is completely safe, waterproof, handy and easy to cut, so you do not have to worry about your pets.

What mistakes to avoid?
Last but not least! Natural wall cork oak bark is a product that is very sensitive to changes in humidity. If the humidity drops the sheet will shrink. Due to changing conditions during warehousing and transport we recommend resting the natural cork for 48 hours in the same conditions it will be installed. This will prevent from creating any gaps between the sheets. Such situations are very common especially during winter and autumn seasons, when cold and moist virgin cork bark is delivered to a warm and dry space. That is why any natural cork purchases should be done with a few days notice to be able to prepare it correctly and, at the same time, avoid additional costs and unwanted stress.
100% return guarantee. Indefinitely.
Indefinite return of this product to our shop is possible. Subject to return is a complete cork in original packaging, without traces of uses and contamination, which is suitable for further resell. It doesn't matter if there is a change in concept or the ordered amount was excessive. When buying these products you can be sure that we will accept the return whenever you need. Bear that in mind, as in other shops returns are possible only within 14 days from the day of receiving your order.
Add to Basket, payment, delivery... but when will the order arrive?
We are putting our best efforts to make cork products purchases in our shop the easiest, safest and simplest as possible. Payment for the purchase can be done in a variety of ways: from cash payment to the courier, as well as by bank transfer or credit card. Cork tree products are packed in durable and thick cardboard and are delivered swiftly by FedEx Express. Every day we make sure that the ordered products are in stock. Therefore our packages are delivered mostly within 48 hours from the order confirmation. In case of a need to set a particular or faster delivery date, please contact or Sales Team to confirm the possibility of such delivery before making a purchase.
Did you know that by choosing our decorative cork bark you are helping the environment?
Natural wall cork oak virgin is produced with care for low energy usages, practically nonexistent emission and minimum environmental impact. Choosing 100% natural cork tree products, you are contributing to the development of responsible, innovative and sustainable solutions, help protect our environment and future generations. Enjoy the shopping!