Cork fashion & Accessories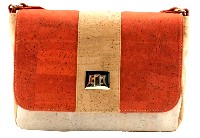 We offer a wide range of natural cork apparels perfect for women, men and children. Each of our products is handcrafted with high precision for fashionable handy items and maximized comfort. What's more, materials made from high quality natural cork are very fashion-forward, resilient and versatile. Cork handbags sold by our company in the UK are a fantastic alternative to leather handbags. They are durable and will serve their owners for a long time. We try to offer products for women and men who follow the latest trends and at the same time want to take care of the environment.
The cork we use comes from areas with sustainable cultivation in forests in Portugal. Cork harvesting is performed by experienced workers so as not to do any harm to the trees. The cultivation is environment-friendly, so our clients do not have to worry about it. Cork oak forests found in Portugal are well cared for and wastelands are regularly afforested. The trees are very important as they also absorb a large quantity of carbon dioxide.
More and more people are also aware of the fact that products made of animal skins mean their suffering. This is the reason why they consider such things unethical. They often look for alternatives that do not harm any living creatures or the environment. To meet their needs and expectations we decided to offer various cork products such as handbags and other accessories at reasonable prices.
Marvel at the sophisticated and posh quality of our cork handbags, cork wallets, unisex belts and huts, umbrellas, wallets, cork watches, fennels, culinary and wine accessories, pots, key holders, cigarette cases and much more! They come in different hues like red, gold, silver brown and chocolate, and feature timeless patterns for a completely amazing visual treat.
Except for cork handbags there are also some other cork products in our offer that may be interesting fdecorations. One of them is a self-adhesive cork map of the UK that can be easily placed on a wall in a teenager's room. Those interested in a world map will find it in different sizes.
Cork is a really versatile material and almost everything can be made of it. Sport and family games lovers should be interested in the cork dartboard we offer. It is carefully made, colourful and easy to play with, as the hues are vivid. If you are looking for a present for someone who loves travelling or for a child that is fascinated with geography, you can buy a smaller or bigger globe made of natural cork, available in a few different colours.
All things that you can purchase in our shop are eco-friendly and high quality cork products that let people know you are not indifferent to the environmental problems. Not only are they fashionable, but also durable, so you will use them for a long time. Just browse our cork products, choose what you need, and we will send it to you as soon as possible. We offer our clients secure payments and guarantee satisfaction. We send goods not only to clients from the UK, but also from abroad.