Select the category that interests you: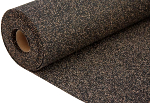 Silent and warm floors for the years to come?
Rubber cork underlay for the panels ensure a perfect acoustic isolation and thermal insulation for all the types of floating floors. It perfectly mutes any hit sounds and areal sounds that could reverberate in the room when using the floor, which visibly elevates the comfort. It efficiently eliminates the imperfections of the surface under the installed flooring, increasing its durability and lifespan. The floors are quieter, warmer and much more comfortable. Insulation natural cork underlays are indefinetly durable so we can guarantee they will last longer than the floors themselves.
Rubber cork sheets are made from cork aggregate and different rubber mixes, neoprene, silicone and polyurethane. The final product is incredibly elastic, durable and resistant against grease, oil, fuels, gases and many other chemical substances. It is used as a seal material for cars, agricultural machines and industry seals.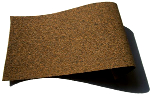 Using rubber cork underlay when laying composite flooring?
For flooring we have prepared special cork rubber underlayment in 4 standard versions. It is produced from the highest quality rubber material from selected rubber aggregate and polyurethane adhesive. Such supports are used when constructing and laying of wooden sport flooring, giving them the right pliability and elasticity, as well as in laying of wooden and composite terraces.